Han Tang Technology/UAV Corp Completes Initial Test of the DATT SA-70 Airship
Han Tang Technology/UAV Corp Completes Initial Test of the DATT SA-70 Airship
 Port St. Joe-Wewahitchka, Florida–(Newsfile Corp. – November 10, 2020) – Han Tang Technology/UAV Corp (OTC Pink: HTTI) through its subsidiary Skyborne Technology, Inc. ("Skyborne") has successfully conducted an inflation test of the new DATT SA-70 semi-rigid Airship with drone package during the week of November 1-5, 2020."The DATT SA-70 Airship will have both manned and unmanned capabilities with a package of two (2) drones on-board the ship. The tether-airship is approximately seven stories high with a payload capability of up to 1000 lbs. and can be configured as a hybrid-electric aerial platform with recharging stations for the two drone packages," stated Michael Lawson, CEO of UAV Corp/Skyborne. Please visit www.uavcorp.net to view the inflation video.
Figure 1
To view an enhanced version of Figure 1, please visit:https://orders.newsfilecorp.com/files/6982/67867_f9f873d92466c829_001full.jpg
"The DATT Tether-Airship will become an integral part of our region's Emergency Management in a Post-Disaster Setting thanks in large part to the vision of the Triumph Gulf Coast board, and the incredible generosity and support of Mike Lawson and the folks with Skyborne Technology," said President John Holdnak, in speaking about the recent grant award Gulf Coast State College received.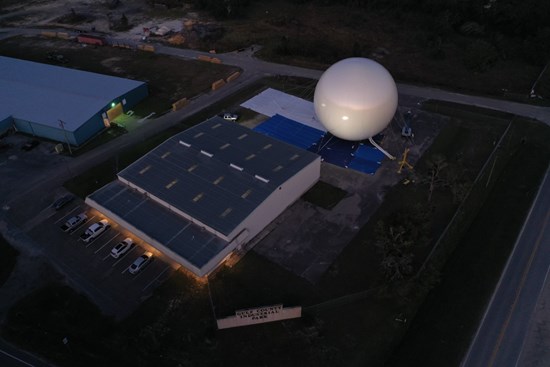 Figure 2
To view an enhanced version of Figure 2, please visit:https://orders.newsfilecorp.com/files/6982/67867_f9f873d92466c829_002full.jpg
"The inflated airship is hugely impressive," commented Jim McKnight the Director of the Gulf County Economic Development Coalition. "It is a big first step in the implementation of the Disaster Response System in our region of the State. The project partnership between Skyborne and Gulf Coast State College has ignited the burgeoning aerospace cluster in Gulf County, which includes drone certifications programs at the high schools and the Unmanned Aerial System Boot Camp at the Gulf Franklin Center."Skyborne has been given the go ahead, from Gulf County government officials, to proceed with the building of its new hangar for manned and unmanned operations, to be located at the Costin Airport in Port St. Joe, Florida. The U.S. Department of Commerce's Economic Development Administration awarded a $615,000 grant to Gulf County in support of this project, to subsidize the cost for the build of a new road, three phase power, water and sewer related to the new airport hangar. This federal funding will help stimulate additional economic growth and job creation in the county.U.S. Department of Commerce Assistant Secretary Dana Gartzke recently said that before Gulf County can really thrive with new business opportunities, there are some critical hurricane repairs that must be done. One primary focus is to support and expand a "high tech" manufacturing hub at the Costin Airport site, which Skyborne Technology is now using to develop new drones and other unmanned vehicle systems technologies. The goal of this partnership is to bring new jobs to the area, with this project alone expected to bring in about 71 related new jobs. "Our grant allows Gulf County to make those infrastructure improvements necessary for progress, and it allows Skyborne Technology to begin developing their new hanger for the manned and unmanned airships that are being developed here locally," Gartzke said.
Congressman Dr. Neal Dunn said, "Port St. Joe is a perfect place for a drone program due to all the open-air space over adjacent land and water. The DATT technology being developed by Skyborne will be able to serve a variety of emergency response, security, and defense needs nationally, and that effort will begin right here in Port St. Joe." Congressman Dunn added that this type of activity and economic development is evidence of the county's resilience in post Hurricane Michael environment.Other grants and contracts are under negotiations, according to Skyborne's Lawson, to partner with the area colleges and businesses in developing the emergency response systems and the training programs necessary to deploy the tether-airship (DATT) system, incorporating the company's SENTINEL turn-key, seamless communication network."The ongoing cooperation and assistance from Gulf County, Gulf Coast State College, and Triumph Gulf Coast has taken an idea and turned it into a reality. The opportunity for both our company shareholders and the economic contributions to Gulf county has been created by partners that share a common vision with common goals," commented Billy Robinson Chairman of UAV Corp.
About Han Tang Technology/UAV CORP, Inc.:
Han Tang Technology/UAV Corp (HTTI) is a Research and Development holding company with a focus on Communication Aerospace and Environmental Solutions. Researchers at HTTI are actively engaged in solving transformative problems for the government and commercial clients. We are working on a wide range of topics including but not limited to advanced communication, Airship and Drone Technology and low altitude analysis of carbon dioxide (CO2) conversion, new energy processes, biomass conversion, energy efficiency crop and mining management.
About R Squared Technologies, Inc.:
R Squared Technologies, Inc., ("R2"), a technology company that has developed the SENTINEL, a man portable communication network between wired and Wi-Fi enabled devices within a secure network. It can be used for both defense and emergency management applications. The SENTINEL provides an immediate command and control network and provides a communication solution in response to a variety of adverse circumstances, including severe weather, natural disasters, power outages or even a hostile attack.
About Skyborne Technology, Inc.:
Skyborne Technology Inc., has significant investments in research & development of Intellectual Property and proprietary designs in areas covering semi-rigid and rigid airship design, reverse-ballonet technology, mooring and hybrid propulsion that have competitive advantages for both its Spherical and Cylinder Class tether/airship designs. Skyborne Technology has a manufacturing facility in Wewahitchka, Florida and owns the airport in Port St. Joe, Florida for manned and unmanned operations.
CAUTIONARY STATEMENT REGARDING FORWARD-LOOKING INFORMATION:
This news release includes certain "forward-looking statements" under applicable US securities legislation. Forward-looking statements are necessarily based upon a number of estimates and assumptions that, while considered reasonable, are subject to known and unknown risks, uncertainties, and other factors which may cause the actual results and future events to differ materially from those expressed or implied by such forward-looking statements. Such factors include, but are not limited to: general business, economic, competitive, political and social uncertainties; delay or failure to receive board, shareholder or regulatory approvals, where applicable and the state of the capital markets. There can be no assurance that such statements will prove to be accurate, as actual results and future events could differ materially from those anticipated in such statements. Accordingly, readers should not place undue reliance on forward-looking statements. The Company disclaims any intention or obligation to update or revise any forward-looking statements, whether as a result of new information, future events or otherwise, except as required by law.
Contact:Han Tang Technology/UAV CorpOTC Pink: HTTIBilly Robinson, Chairman504-722-7402
[email protected]www.uavcorp.net
Deborah Cheek, Communications Director
850-588-1747
To view the source version of this press release, please visit https://www.newsfilecorp.com/release/67867